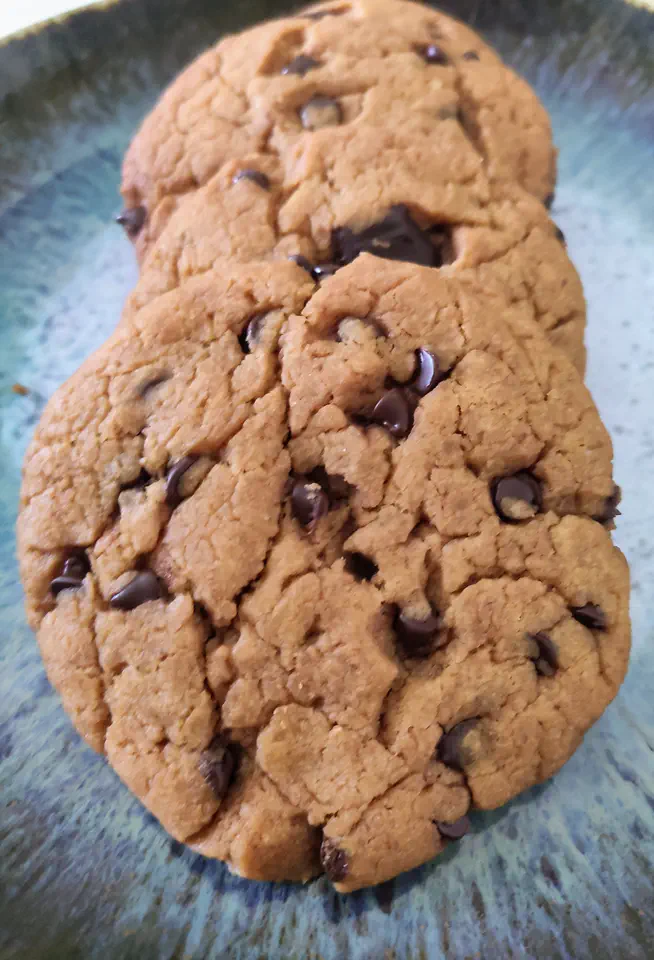 Recipe⌗
Source: COOKIES AMERICAINS | VEGAN - La petite Okara
This took about 45min to make. It's enough for 10 cookies, and is easy to make.
Ingredients⌗
2 tablespoons of blond sugar
120g of whole sugar
50g of soy yogurt
120g of neutral oil
220g of flour (in France: T80)
1 teaspoon of baking powder
1/2 teaspoon of vanilla powder
A pinch of salt
120g of chocolate - we used chocolate chips alongside chocolate chunks, so use what is available to you
Steps⌗
Preheat your oven to 160°C.
In a bowl, whisk together the blond sugar, the whole sugar, the soy yogurt and the oil.
Add the flour, the baking powder, the vanilla powder and the salt. Mix again.
Prepare your chocolate chunks if you're using them. You could also use nuts, oreos, …
Add your chocolate, and mix again.
Form the cookies using your hands, and add them to your baking tray (on a baking sheet). You want to make little disks, not balls (because it won't come down when cooking). You should be able to make 10 of them.
Cook in your oven for around 17 minutes.
Results⌗
Those were way better than the ones I previously made, close to perfect. There sure is a lot of oil in them though.
This time I made 18 of them, and they seem to last for at least 3 days without a problem.
Overall, I'd give them a 5/5 - they're delicious.