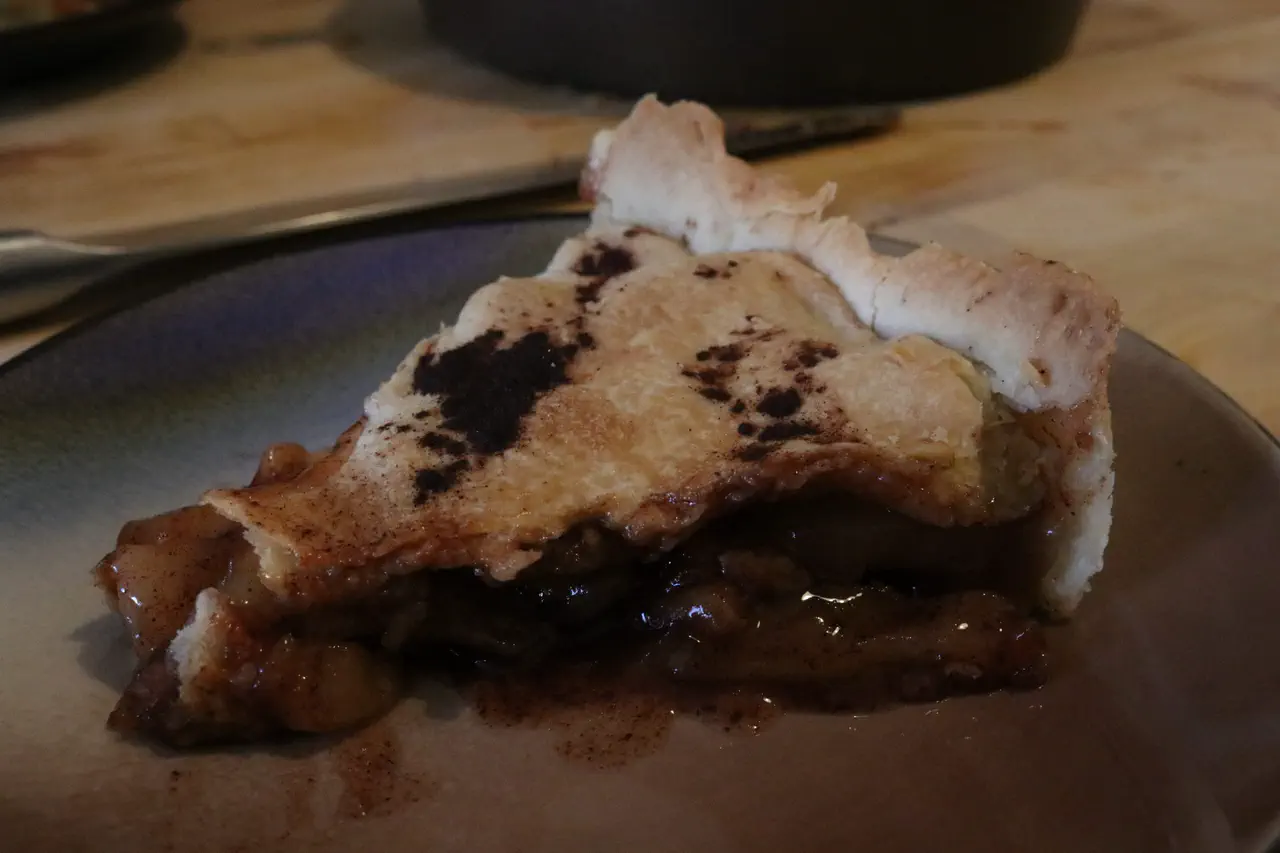 Recipe⌗
Source : Vegan Apple Pie - Tasty
This took about 3 hours and a half to make (I was really slow). It's enough for at least 5 people, and isn't easy, but isn't hard to make.
Ingredients⌗
310g all-purpose flour (and a little bit extra if the dough gets sticky)
400g + 1 tablespoon + 1 teaspoon organic sugar
1 + 1/2 teaspoon salt
225g vegan butter (cubed and chilled)
6 tablespoons of ice water
7 apples (I only used 5)
1 lemon, zested (I didn't put this in)
1/2 lemon, juiced (I used a tablesppon of lemon juice)
5 tablespoons cornstarch
1 tablespoon coconut oil + 1 teaspoon
4 teaspoons cinnamon
Steps⌗
In a large bowl, combine the flour, sugar (a tablespoon) and salt (a teaspoon).
Add the cubed butter, bit by bit, using a fork to work it into the flour until it breaks down.
Gradually add the ice water and mix until the dough can be pressed together.
Divide the dough in two parts, and shape them into discs. Wrap them in plastic and put them in the fridge for one hour.
Preheat the oven to 180°C.
Peel and core the apples, then cut them into thin slices. Put them in a large bowl and add sugar (200g), the lemon zest, cornstarch, lemon juice, 1 teaspoon of coconut oil, 1/2 teaspoon salt, and 3 teaspoons cinnamon. Toss until the apples are well-coated.
On a lightly floured surface, roll both of the discs of dough to about 2cm thick. Transfer one to a greased 20cm pie dish, and gently press against the bottom and sides. Trim the excess dough around the edges, then prick the bottom of the pie crust all over with a fork.
Pour the apples into the dish, and cover with the top crust. Trim the excess dough around the edges, then crimp the top and bottom crusts together with a fork.
Brush the top of the crust with a tablespoon of coconut oil, sprinkle a teaspoon of sugar and cinnamon.
Cut 4 vents in the top crust.
Bake for one hour, until the crust is starting to turn golden brown.
Results⌗
It was delicious, altough really heavy. Maybe there was too much sugar this time, I'd also like to try to perfect the top crust. The biggest pain point I can find is that it takes way too long to make - I spent almost the whole afternoon making it (because I'm still really slow at cooking).
Overall, I'd give it a 4.75/5.